Aakasam Lona Lyrics - Oh Baby | Samantha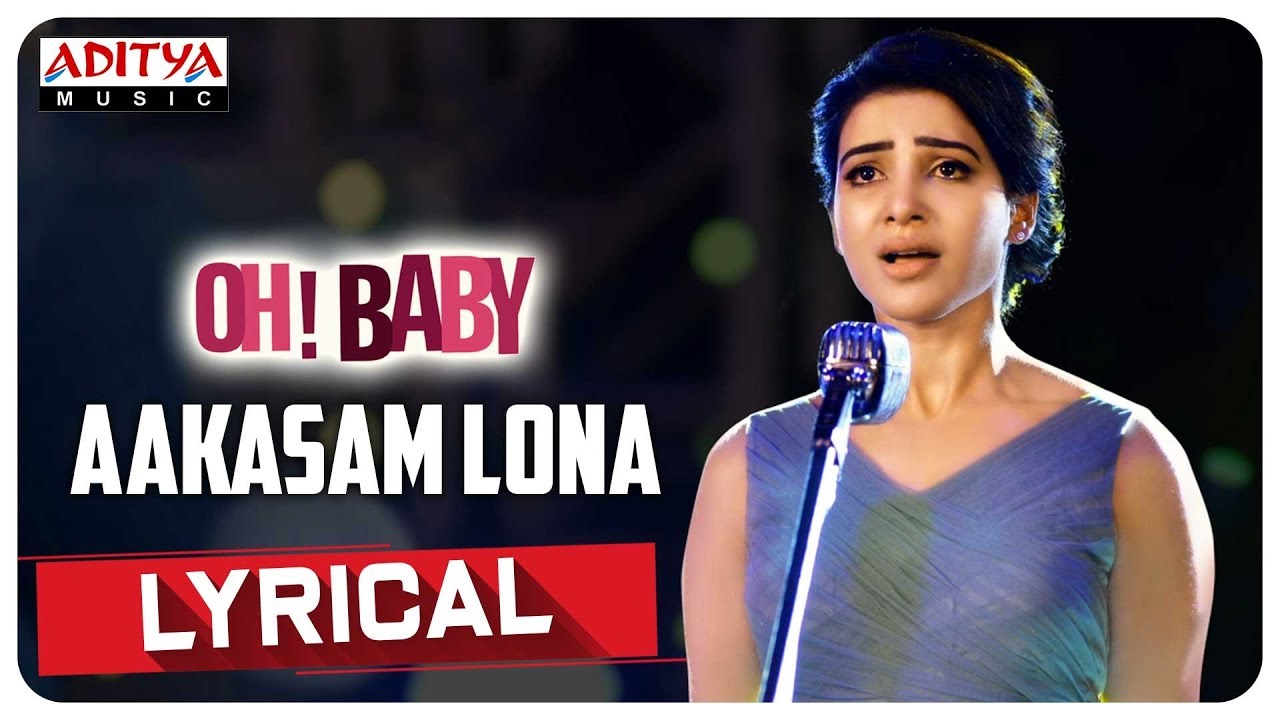 MusicLabel

: Aditya Music

About
Aakasam Lona Song lyrics

were written by Lakshmi Bhupala, this song from the film

"Oh Baby"

. The Song has

sung by Nutana Mohan

and the

music

was composed

by Mickey J Meyer

. B. V. Nandini Reddy is the Director of this film. Samantha, Naga Shaurya, Rajendra Prasad, Rao Ramesh played lead roles in this film.
Aakasam Lona Song Lyrics in Telugu and English
AAKASAM LONA EKKAKI MEGHAM
SOKAANIDHA VAANA…
NADI VEEDHI LONA
CHANUBHAALA KOSAM
EDHACHUDAKU NAANNA…

TANA PEGE TANA THODAI
TANA KONGE NEEDAI
ARACHETHI THALARAATHA
EVARU CHERIPAARO…..

AANAATEE..GAAYAALE….
EENADE…SAAPALAI…
EDHURAITHE…NAAKOSAM
YE JOLA…PAADAALO…
NAA KANNAA…

Also Read Top Mother Sentiment Songs Lyrics Collection

OH.. ONTARAI UNNAA ODIPOLEDHU..
JANTAGA UNTE KANNEERE KALLALO
CHEEKATENTHUNNA VELUGUNE KANNA
BOSINAVVULLO NA BIDDA SENDHRUDE…

MM… PADE.. BHAADHALLO..
VODE..ODHARPOO..
KUSALAMADIGE MANISHI LEKA
OOPIRUNDHO LEDHO
CHALIKI VANIKI THELUSUKUNNA
BRATHIKI UNNALE…

AANAATEE..GAAYAALE..
EENADE..SAAPALAI…
EDURAITHE…NAAKOSAM
YE JOLA…PAADAALO…
NAA.. KANNAA…
-----------------------------------------
Top Song Lyrics Trivia

Who wrote the lyrics of "Aakasam Lona Song" from the film Oh Baby?
Lakshmi Bhupala has written the lyrics of "Aakasam Lona Song".

Who is the Music Director of "Oh Baby"?
Mickey J Meyer has the music director of "Oh Baby".

Who is the singer of "Aakasam Lona Song"?
Nutana Mohan has sung the song "Aakasam Lona".

Who is the director of "Oh Baby"?
B. V. Nandini Reddy has directed the film "Oh Baby".

Who is the cast of "Oh Baby"?
Samantha, Naga Shourya, Lakshmi, and Rajendra Prasad are the lead cast of Oh Baby.

When was the "Oh Baby" movie released?
Oh Baby Movie was released on 5th July 2019.
---------------------------------------------
ఆకాశంలోన ఏకాకి మేఘం శోకానిదా వాన…
నడి వీధిలోన చనుబాల కోసం
ఎదచూడకు నాన్న…

తన పేగే తన తోడై తన కొంగే నీడై
అరచేతి తలరాత ఎవరు చెరిపారో
ఆనాటీ…గాయాలే…ఈనాడే శాపాలై
ఎదురైతే… నా కోసం ఏ జోలా.. పాడాలో
నా కన్నా…

ఓ…ఒంటరై ఉన్న… ఓడిపోలేదు
జంటగా ఉంటె కన్నీరే కళ్ళలో
చీకటెంతున్నా… వెలుగే కన్నా
బోసినవ్వుల్లో నా బిడ్డ సెంద్రుడే

మ్… పడే… బాధల్లో ఒడే… ఓదార్పు…
కుశలమడిగె మనిషిలేక ఊపిరుందో లేదో
చలికి వణికి తెలుసుకున్న బ్రతికి ఉన్నాలే….

ఆనాటీ…గాయాలే…ఈనాడే… శాపాలై
ఎదురైతే… నా కోసం… ఏ జోలా… పాడాలో
నా కన్నా…